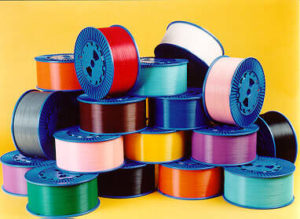 COLORING AND COATING SERVICE FOR OPTICAL FIBER
Fluid Coating Technology, Inc offers value-added coating services such as coloring and buffer coating. All coatings used are UV-curable for durability and appearance. Colors are applied with optimum process conditions to guarantee well-cured coatings. Buffer coatings are applied with excellent diameter control and precision centering. There are no capital or start-up costs because FCT has the equipment and trained personnel in place to color or coat your fibers. We specialize in fast service and high quality.

 RIBBON AND FIBER PACKAGING
Fiber assemblies such as ribbons and other multi-fiber structures are produced using UV-curable binder resins. FCT has the capability to pay off up to 12 fibers simultaneously. We have tooling in place for nearly all common ribbon configurations from 2 to 12 fibers. Other configurations can be fabricated in a short time.

PRODUCT AND PROCESS DEVELOPMENT
Contract product and process development projects take advantage of FCT's in-house equipment, experience, and tooling. We can take advantage of over 30 years of combined coating, curing and process development experience. We can design your product and process and then manufacture it for you.

 NEW ENGLAND FIBEROPTIC COUNCIL
White Papers
ADD VALUE TO YOUR FIBER COMPONENTS & ASSEMBLIES BY "COLOR CODDING" THEM
COLOR-CODED FIBER RIBBONS EASE "FIBER MANAGEMENT" FOR CABLE INSTALLERS.